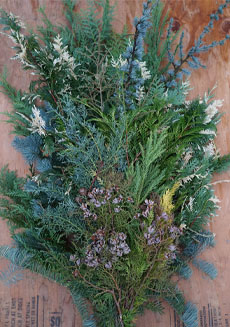 Leading edge florists, garden centers and homeowners have been treated to our fine selection of genetic codes through cuttings of our plant material. From the outstanding Cryptomeria japonica 'Cristata' with its unique cockscomb growth evolution to variegated Alaska cedars, we have more colors, textures and fragrance most customers ever knew existed. The beauty of this hardy foliage enhances normal flower arrangements, garnishment, wreaths, swags and more, to make your final creation win the Blue Ribbon you deserve. As the seasons change so do the selections made available.
Our foliage has longevity and can last several months. Branches with cones; colors of blue, green, gold, silver, purple and variegated, contorted stems of larch & Japanese 'Snowbell' covered with moss, Cryptomeria and Cupressus with seed pods – let your imagination go wild! And we offer foliage year round for ALL occasions, including Mother's and Father's Days, Easter, Thanksgiving, Christmas, graduation, wedding, funerals and, just because it makes you smile! Get your creative juices flowing and place an order for a case of "The Wild Bunch", to get samples of 20 different, exciting genetic codes. The only limitation is your imagination.
Our success is through your success. You can't sell what you do not have. Buy today for peace of mind tomorrow.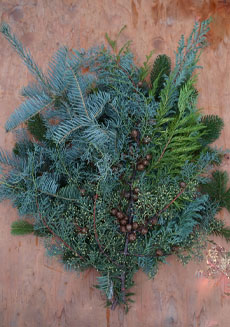 To order your custom foliage, print and complete the Foliage Order Form below. Return to Peace of Mind Nursery, Inc. via, either:
Cell:
503-949-4944
Email:
[email protected]
Mail:
Peace of Mind Nursery, Inc.
10772 Selah Springs rd NE
Silverton, Oregon 97381
To see available foliage options click here or refer to our Foliage section